Irina C. Murariu
M.A., C. Psych, Registered Psychologist
---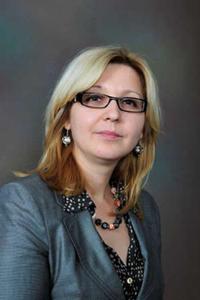 I am a Psychologist with the College of Psychologists of Ontario. I completed undergraduate studies in psychology and I have an M.A. in Counselling Psychology from McGill University in Montreal. I have practiced counselling and therapy for more than 20 years in private settings, community centers and industrial/organizational milieus. I have a broad experience in the assessment and treatment of adults suffering from the consequences of personal injury.
I attended workshops, seminars and congresses on topics of interest in clinical, counselling and rehabilitation psychology, such as depression, trauma and pain. I completed short-term trainings in Cognitive Behavioural Therapy, Trauma and Mindfulness, as well as Integrative Psychotherapy.
I provide services to adolescents, adults and couples, using an eclectic approach that integrates ideas from various theoretical frameworks such as Cognitive Behavioural Therapy and Solution Focused Brief Therapy, as well as Person Centered, Experiential, Short-Term Dynamic, Interpersonal or Mindfulness perspectives. My areas of interest/practice are depression, anxiety, trauma, pain, stress and anger management. I work with clients face to face and through online counselling.
I strongly believe in each individual's potential to grow and promote change from within in a supportive, non-judgmental and positive therapeutic environment that leads to collaborative goals and a well-customized helping relationship.
Numele meu este Irina Murariu si sunt Psiholog Asociat, inregistrat cu Colegiul Psihologilor din Ontario.
Am absolvit studii universitare de psihologie si am urmat un masterat in consiliere psihologica la Universitatea McGill din Montreal. Am activat, in cea mai mare parte, in practica private si am o experienta de peste 15 ani in psihoterapie. Am acumulat o vasta experienta in evaluarea si tratarea victimilor diverselor forme de accidente precum si a celor afectati de stress occupational.
Am urmat cursuri de formare in domeniul clinic si de consiliere. Am participat la congrese si seminarii pe teme de interes precum, Therapia Cognitiv-Comportamentala, Terapia Integrativa, depresie, anxietate, trauma, durere cronica sau tulburari de personalitate.
Domeniile de interes si competenta sunt depresie, anxietate, fobii, atacuri de panica, trauma, stres, stress posttraumatic, communicare si conflict, pierdere (doliu), separare, probleme de relationare, comportament obsesiv compulsiv, probleme de dinamica sexuala, dependenta fizica sau emotionala.
In orice moment al vietii putem avea nevoie de sprijin pentru a depasi situatii dificile, pentru a face fata unor probleme emotionale, sau pentru autocunoastere si dezvoltare personala. Impreuna vom gasi solutii la problemele dumneavostra!
Contact Our Client Care Team to
Request an Appointment
Currently not accepting new clients
Currently not accepting new clients
Therapist Information
Offers Distance Counselling
Age Groups Served
Adults
Languages Spoken
English, Romanian
Counsellor's Gender
Female
Conditions Treated
Anger Management, Anxiety, Depression, Trauma
Services Offered
Assessment, Behaviour Therapy, Individual Counselling
Therapeutic Approaches
Cognitive Behavioural Therapy, Short Term Therapy
2 Locations Available
5378 Sheldon Park Drive
Burlington, ON
L7L 5W9

Appointments available:

Monday to Friday: 10:00am - 7:00pm

86 Homewood Ave., Hamilton, ON

Appointments available:

Monday to Friday: 10:00am - 7:00pm
Distance Counselling
Also Available!
---
Want Some Help
Finding the Right Therapist?
Call our Enquiry Line or Email Us